Add OSHPD Classification data to an RFI in just a few simple steps.
Quick Menu:
Add OSHPD Classification Data to an RFI
1. Open RFI > RFI List. Select the RFI you'd like to update.
2. Select OSHPD Classification Data from the main toolbar of an open RFI.
3. Fill in the form with as much information as you can provide.
Materially Altered: Any change, alteration or modification, as determined
by OSHPD, that alters the scope of a project
ACD Required: Are Amended Construction Documents required?
Non Material Classification:
Approve Type: Choose Field Approved, Field Reviewed, or Office Approved.
Reviewer Type: Was the reviewer an ACO (Area Compliance Officer), DSE (District Structural Engineer), or FLSO (Fire Life and Safety Officer)?
4. Select Save.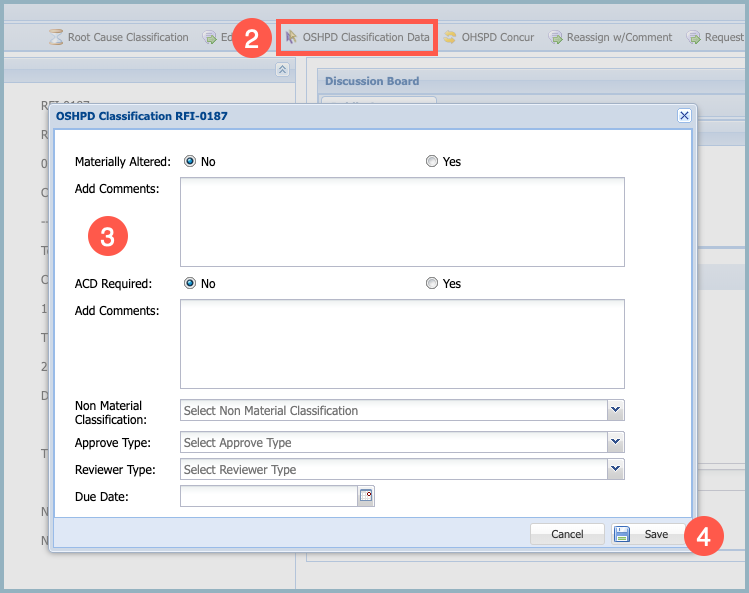 This information is now attached to the RFI in the OSHPD Classification Data section of the RFI.

Create a custom filter for non-materially altered RFIs (ASI Log)
1. Open RFI > RFI List.
2. In the lefthand search menu, locate Materially Altered, and select No.
3. In the upper right section of the search menu, select Save Filter.
4. Enter a name for your filter, and select Save.
To access your custom filter, select Custom Filters and select your filter from the dropdown menu.