Want to learn more about the locations tool? Check out this article! Getting Started: Locations Tool
The Locations tool allows you to create new Inspection Requests, Punch List records, RFIs, and Checklists straight from the map view.
Create new records
1. To begin, navigate to Locations > Map List.
2. Using the Selection tool

, select a location from the map. Select Add in the bottom right.
3. From the list, select one of the following:
Inspection Request
Punch List
RFI
Checklist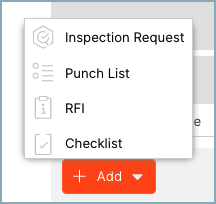 4. From there, you will be directed to the appropriate form to create or add each of those items. When you have completed and saved the new item, you will be returned to the map view.