Topics covered in this article:
ICD
The Inertia Embedded App integration uses Intelligent Construction Drawings or ICDs. Inertia's ICD technology leverages the power of Building Information Modeling (BIM) in a new way to grant construction teams a more powerful way to access and manage information throughout the complete construction process. Learn more about the power of ICD technology here: Inertia ICD
Launching the Inertia app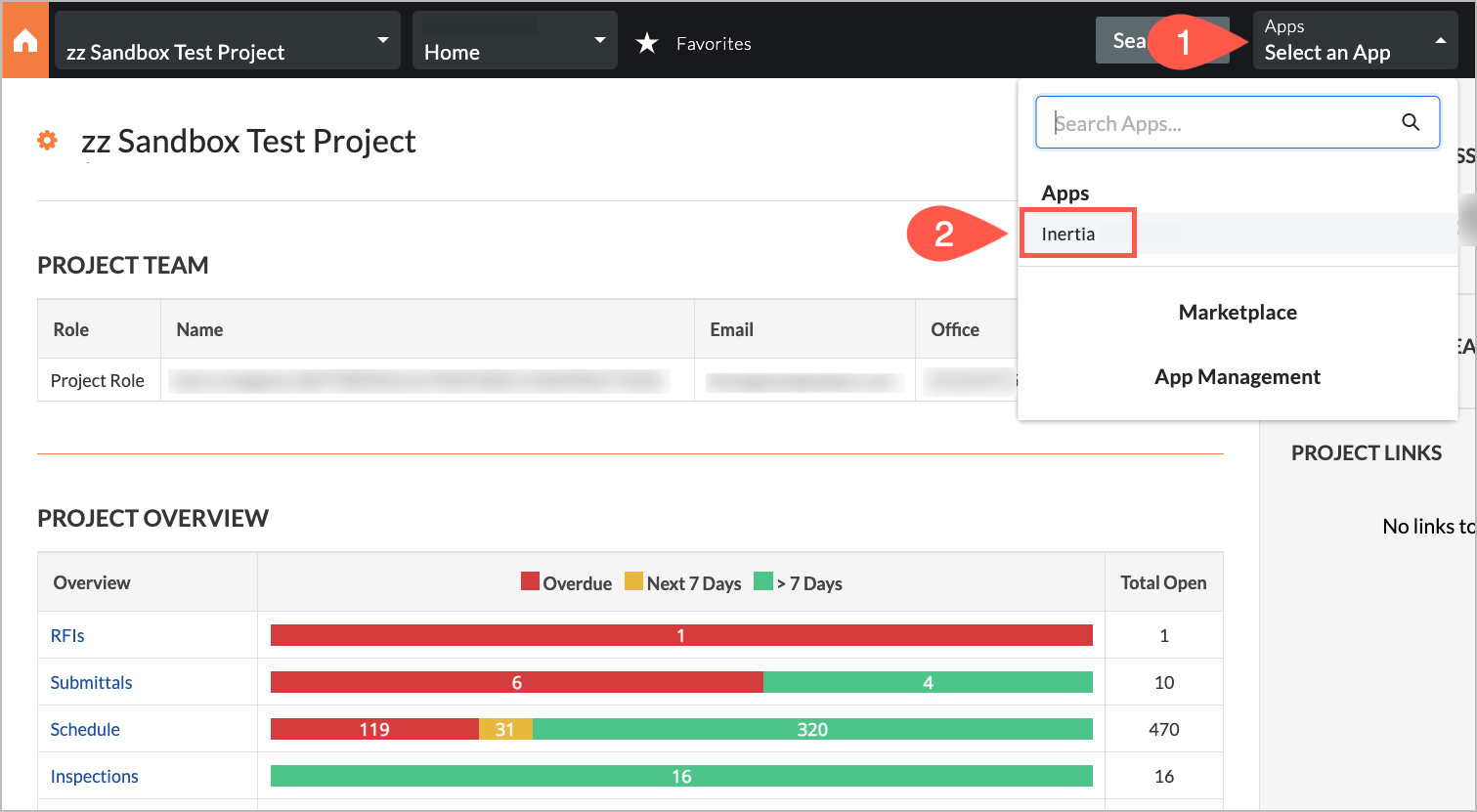 From your Procore project home page, select the

Apps

dropdown menu in the upper right corner.

Select

Inertia.

When the app loads, you will see the

Map List

tab with all Inertia ICD maps for your project.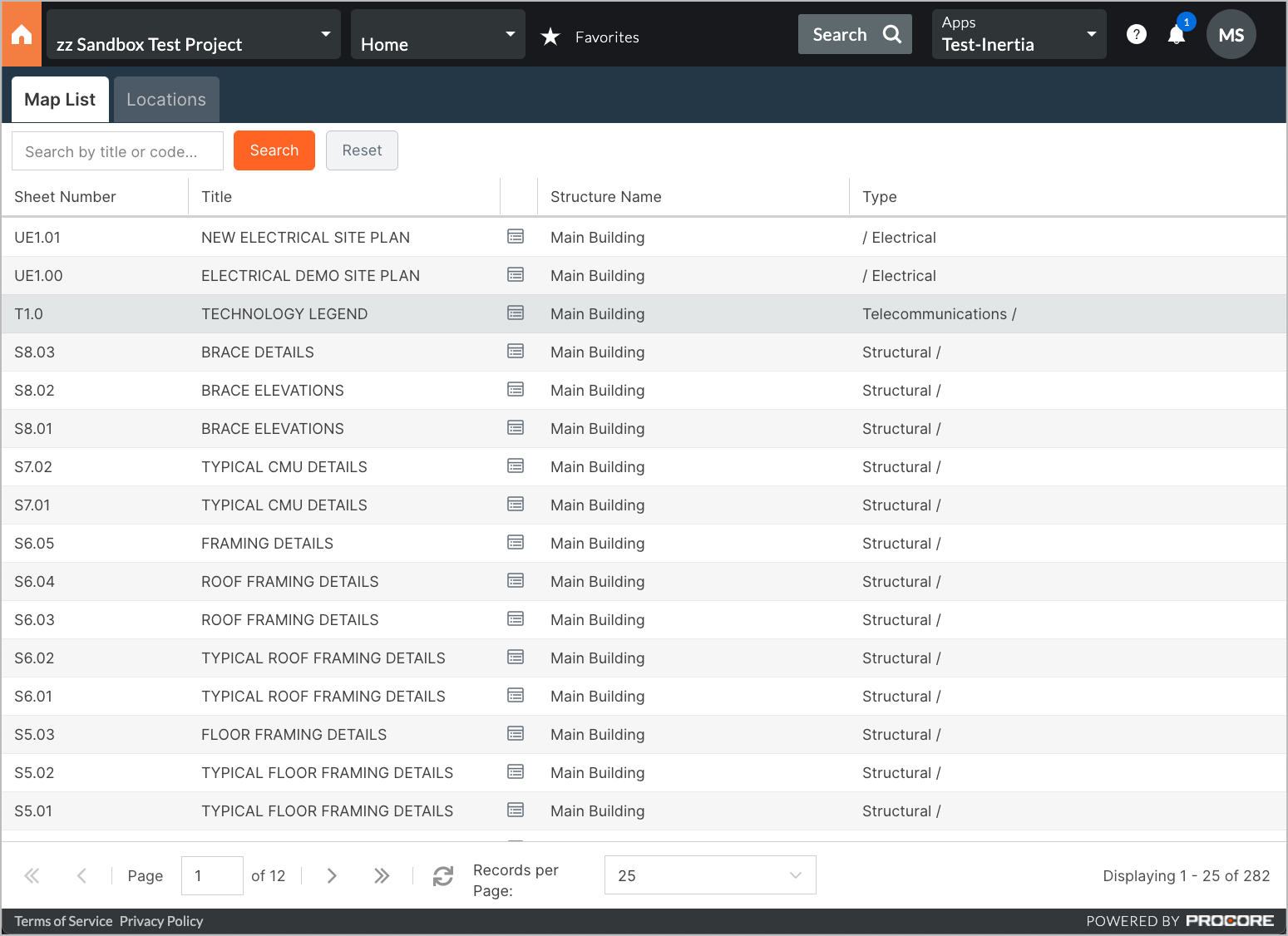 Locating and opening maps
To locate a map, use the search field in the upper left corner. You can search by sheet number, title, building, and type.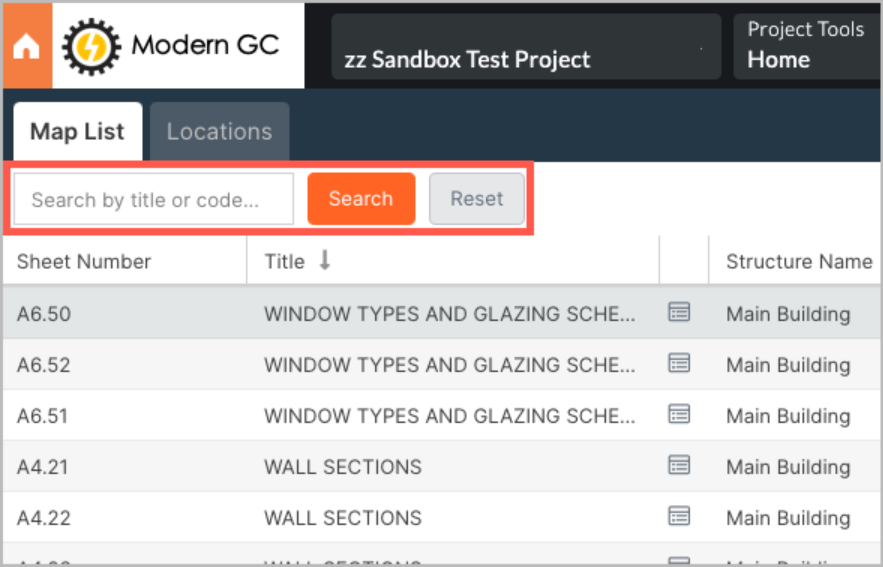 If you'd like to sort the columns in this view, simply click on the column header to sort.

Once you have located the map you would like to open, double click on the row, or select the

Details

icon.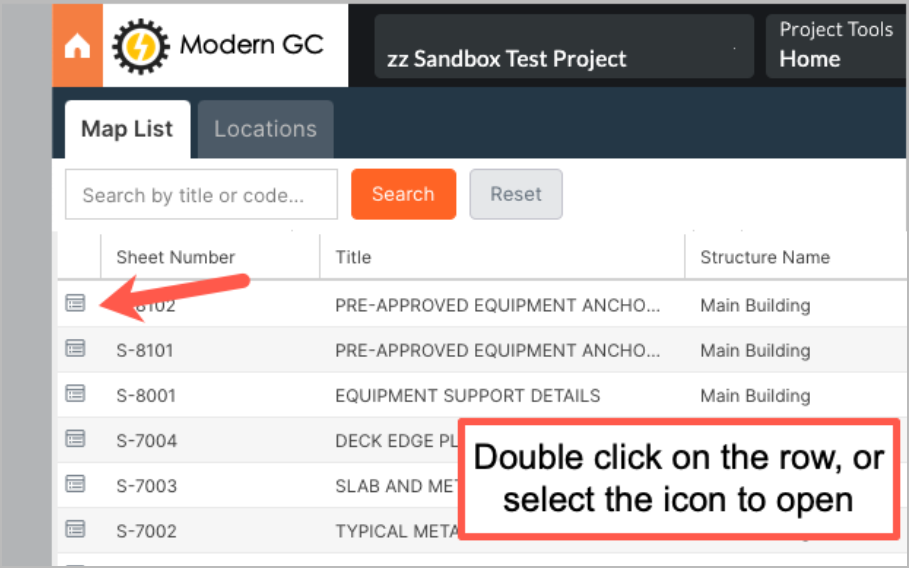 This will open the map in a new tab. To open additional maps, return to the

Map List

and repeat steps 2 and 3 from above. New maps will open in their own tabs, allowing you to easily navigate between them.
Map View Tour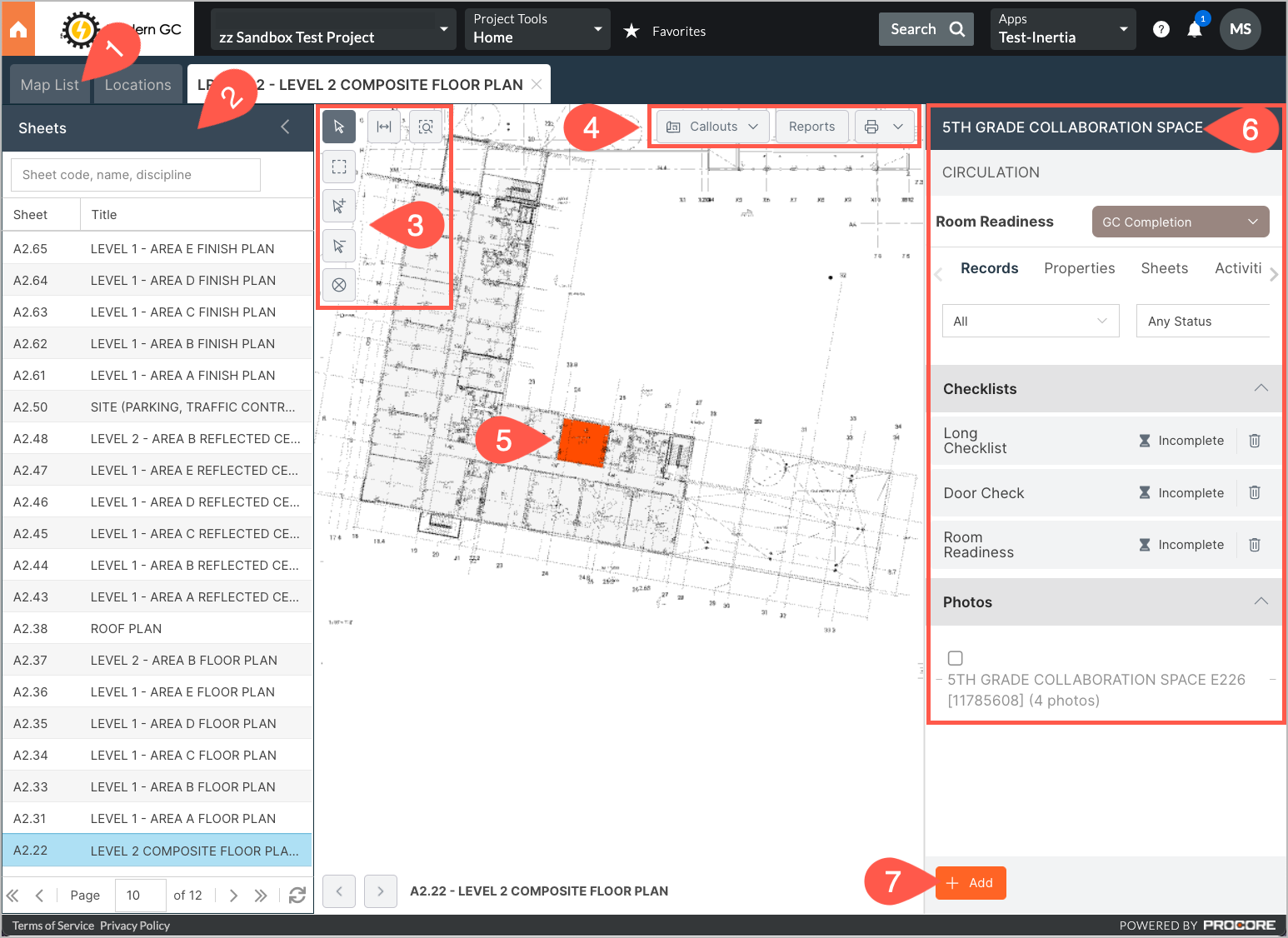 Map List
Sheets
Map Navigation
Toolbar
Map View
Location Report
Add records
1. Map List
This will return you to the main Map List tab, which allows you to search for and open additional maps in new tabs.
2. Sheets
To switch to another sheet, search and select using the Sheets panel. If you would like more room to move around the map, select the left facing arrow to collapse this panel. Please note - If you select a sheet from this panel, it will change your current map view, and will not open a new tab. If you would like to open additional maps in their own tabs, navigate back to the Map List and select a map from there.
3. Map Navigation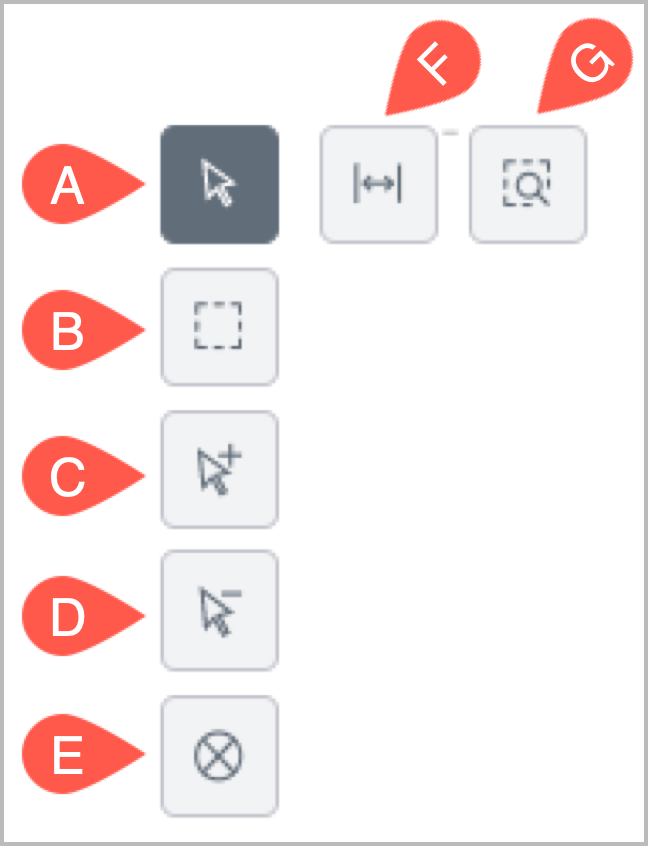 A. Select Single Location: Select one location at a time.
B. Select Area: Click and drag to select all locations in an area.
C. Add to Selection: This option will allow you to select multiple locations, or add additional locations to your selection.
D. Remove from Selection: Remove locations from your selection.
E. Deselect All: Clear all selections you have made on the map
F. Zoom to fit: This option will reset the map orientation and zoom back to the default view.
G. Zoom to selection: if you have a location or object selected, this option will help you quickly zoom the map straight to that item.
4. Toolbar
This toolbar allows you to view callouts for the sheet, run reports, and print maps.
5. Map View:
The center section of this view is the map. Objects which are highlighted in orange are currently selected. When an object from the map is selected, the Location Report (6) will display the details and records for that location. You can also right click on a location to view additional options such as "The map view is your primary workspace.
6. Location Report: When an object from the map is selected, the location report on the righthand side will display all available information and records for that location. The name of the location and category will be displayed across the top.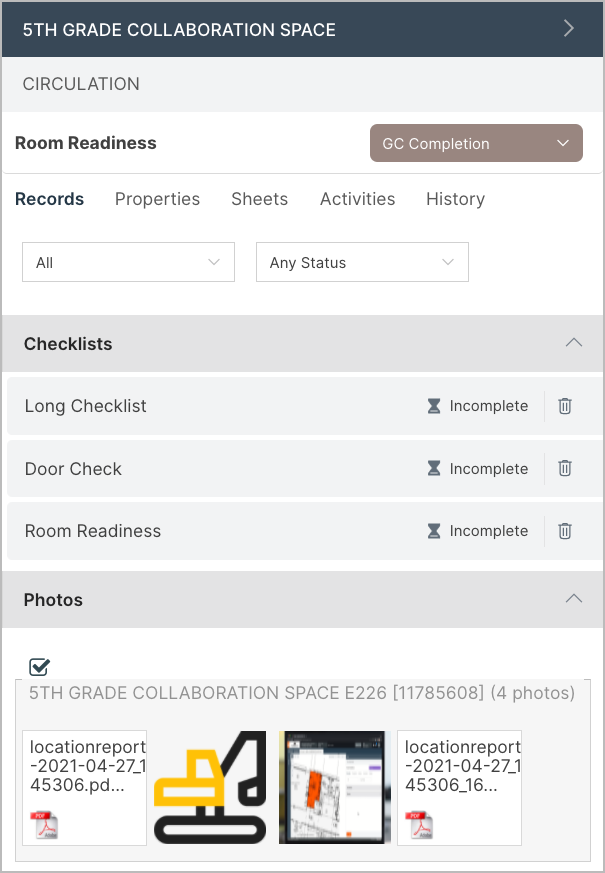 7. Add records
In the bottom left is the "Add" button. This allows you to select an object from the map, and add an Entity Status, check list, or photo.